Home
Future of the Islamic World
Future of the Islamic World
Global Powers and the Islamic World
Russia and the Islamic World
Context From time to time there is a need to ascertain the status of global Balance of Power, is it in equilibrium or moving in...
China and the Islamic World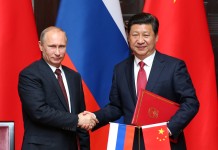 The Return of 'Spheres of Influence' Politics Context While there are different angles to interpret the fast-moving flux in the global political, economic and security situation,...
Core Versus Peripheral Islamic World
Great Power Rivalry in the Middle East - What it means for South Asia? Context The New Cold War paradigm and great power rivalry framework is...
Context Now that US is withdrawing from Afghanistan and that ambiguity is out of the equation, the attention is naturally shifting how will the balance...