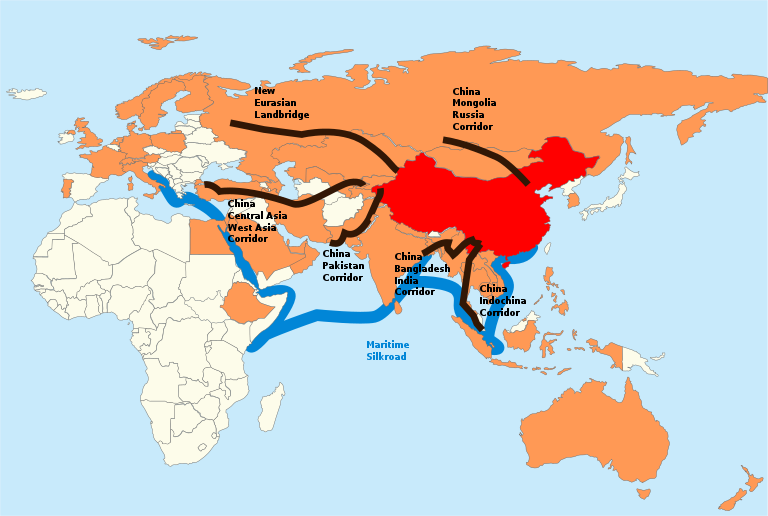 The Race for Building Trade Corridors and Connectivity
Context
When laying out the master plan for Belt and Road Initiative (BRI), China must have grappled with two strategic considerations. One, what would a potential future conflict with US, or more generally with the West, mean for its security and economic interests. Second, how it would secure the energy needs if the strategic sea pathways, through which much of its present-day trade passes, were to become unstable.
These worries are not unique to China alone, every major international actor is attempting to find their respective answers to these growing risks in era of great power competition. The dynamics around the politics of trade corridors and energy pipelines can be understood by the following three factors:
Which countries have the energy reserves and other products to export?
 Which nations have the most need for these energy reserves and products and,
The intermediate countries whose strategic location relative to these trade corridors increases their leverage vis a vis the global and regional powers.
Post globalization and post Covid international commerce is governed by a new principle. A nation should not have supply lines and trade, especially of strategic nature, with a country that could become an adversary in the future. President Biden has called it de-risking when it comes to trade between US and its allies with China. The reason for this is that Free Trade can provide tremendous leverage to a potential adversary and create a dependency.
Belt and Road Initiative

In view of these strategic considerations, China's BRI and its various tributaries, appear to provide alternative routes for the sustenance of its trade and the steady supply of energy needs to maintain its growth. BRI is a combination of two routes; the New Silk Road Economic Belt will run westward overland through Central Asia and onward to Europe. The second route, the 21st Century Maritime Silk Road (MSR), will run south and westward through sea to Europe, with stops in South East Asia, South Asia and Africa.
Under the auspices of BRI, at least six arteries are being developed, with CPEC being one of them:
The China-Central Asia-West Asia Corridor will be built with China's Xinjiang Uyghur Autonomous Region as its starting point
2. China-Pakistan Economic Corridor (CPEC) will be built to connect the ports of Pakistan's Gwadar with Xinjiang's Kashi
3. The northern China-Mongolia-Russia Land Corridor will connect Russia to China and starts from the Chinese province of Heilongjiang, and
4. The south running China-India-Bangladesh-Myanmar Corridor (BCIM), will be built with Kolkata as its starting point
5. The Indochina Peninsula Corridor
6. The New Eurasian Land Bridge, running from central China to Europe via Kazakhstan, Russia and Belarus
BRI will allow China to consolidate its access to Eurasia, Central Asia, South East Asia, including Africa. More significantly, it will help its penetration into the maritime regions, especially the Indian Ocean and the Pacific Sea. These regions are estimated to include 4.4 billion people, constituting 63% of the world population, and US $2.1 trillion in gross production that makes up 29% of the world GDP. Considering this, BRI will provide lucrative opportunities for China, expanding its trade with the littoral and inland states.
CPEC in Relation to China's BRI
While CPEC is just one of the tributaries of the Chinese BRI vision, it is perhaps the most important one. Ideally, China would desire all the corridors to operate as envisioned. However, the success of each strategic passage is dependent on mitigating several key security risks.
For example, the Gwadar Port situated very close to the Strait of Hormuz, will allow China the shortest access to the Arabian Sea and the Indian Ocean. Moreover, it will provide an alternative route to the conflict prone and crowded Malacca Strait, sandwiched between Indonesia, Malaysia and Singapore. Obviously, this carries economic and security implications. Writing in the Australian Strategic Policy Institute, PoliTact's strategist Claude Rakisits pointed out in 2015:
"However, in geo-strategic terms the success of CPEC would not be good news for the US: it would displace the US as Pakistan's major external patron in favor of China. Most importantly, it would provide China with a firm and reliable long-term beachhead in the Indian Ocean close to the Persian Gulf, effectively making China a two-ocean power. This would be a red rag to India."
Thus, if tensions between India and China, and matters related to the South China Sea, were to escalate, the BCIM strategic corridor is likely to become nonfunctional. In this case, CPEC would take on an added emphasis.
Then there are concerns regarding the stability of Middle East. The Middle East reigns as China's largest supply of oil and energy: 60% of China's oil comes from the Middle East. These supplies travel from the Strait of Hormuz to Strait of Malacca, curling through the Indian Ocean and reaching China while passing through South China Sea, East China Sea and the Yellow Sea. However, if the situation of Middle East deteriorates due to extremism and continuing worries regarding Iran's nuclear program, it is possible that the Strait of Hormuz itself becomes quite insecure.
BRI and IMEC
Discussions have been brewing for a while that the US needs to counter BRI and provide an alternative. And for this – various names and formulations have come to the fore – the latest one being the India-Middle East-Europe Corridor (IMEC). The new corridor was announced at the recently concluded G-20 meeting held in India. It will be a combination of a rail and shipping route covering two continents – and two corridors. The Eastern Corridor will connect India to the Arabian Gulf and the Northern corridor connecting the Gulf to Europe.
But the question is how IMEC compares to the BRI tributaries. The connectivity corridors have become another tangent of the escalating global power tussles between US, China, and Russia.
While CPEC provides the shortest route to connect the Gulf States, IMEC bypasses Pakistan. Not only that, there already exists a 5,981 km train transit route completed in 2022 – which connects Pakistan to Turkey via Iran, called ITI (Islamabad, Tehran, Istanbul). The cargo train takes 13 days to reach Istanbul from Islamabad. The path envisioned by IMEC also by passes Turkey. Turkish president Erdogan recently commented "the most convenient line for traffic from east to west has to pass through Turkey." And that there is no corridor without Turkey.
On the other hand, IMEC envisions a train route through Saudi Arabia, Jordan, and Israel – bypassing the Suez Canal. From Israel, the Northern shipping route will connect with Greece.
IMEC seems to be promoting an alternative connectivity offered by Pakistan, Iran, and Turkey – and configure the world that is suitable for Western alliance and maintaining of its influence over the Middle East. Moreover, to use that sway over the Core Arab Muslim nations, towards pressuring Peripheral Muslim states to join IMEC. To reap the benefits of IMEC, necessitates normalization of ties between Saudi Arabia and Israel, which is being actively pursued by the Biden administration. This will undercut the growing Chinese penetration of the Middle East, as witnessed be the facilitation of Saudi-Iran peace deal – and around $400 billion China-Iran Security deal reached in March 2021.