The American Experiment; What It Means For The World
How the US adjusts to the increasingly multi-polar world – and the forces of globalization – will have a major impact on world affairs. There is no doubt the global order that emerged in the aftermath of World War II is now in transition. Will the US lead the world into a new and secure interdependent global order, or succumb to nationalistic tendencies, is yet to be determined. The continuity in American leadership is unlikely to occur in absence of system level political, economic, and security reforms that are attuned to the present realities.
US Elections: Implications for South Asia, Middle East
US-Islamic World Relations
How is Ukraine Conflict Impacting South Asia? Context One of the key theaters of the shifting balance of power is Europe, where Russia and China had...
Countering Extremism and Homeland Security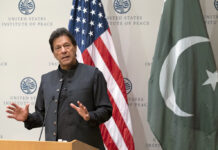 By Dr. Syed Mohammad Ali Context While longstanding, relations between the US and Pakistan have experienced much turbulence especially since 9/11. It looks like the...
A Ten-Year Assessment of the Enhanced Partnership with Pakistan Act of 2009 By Waleed Hashmi Background Many observers describe U.S-Pakistan affairs as torturous, mercurial, and enigmatic. Some...